#1 on Amazon Germany!!!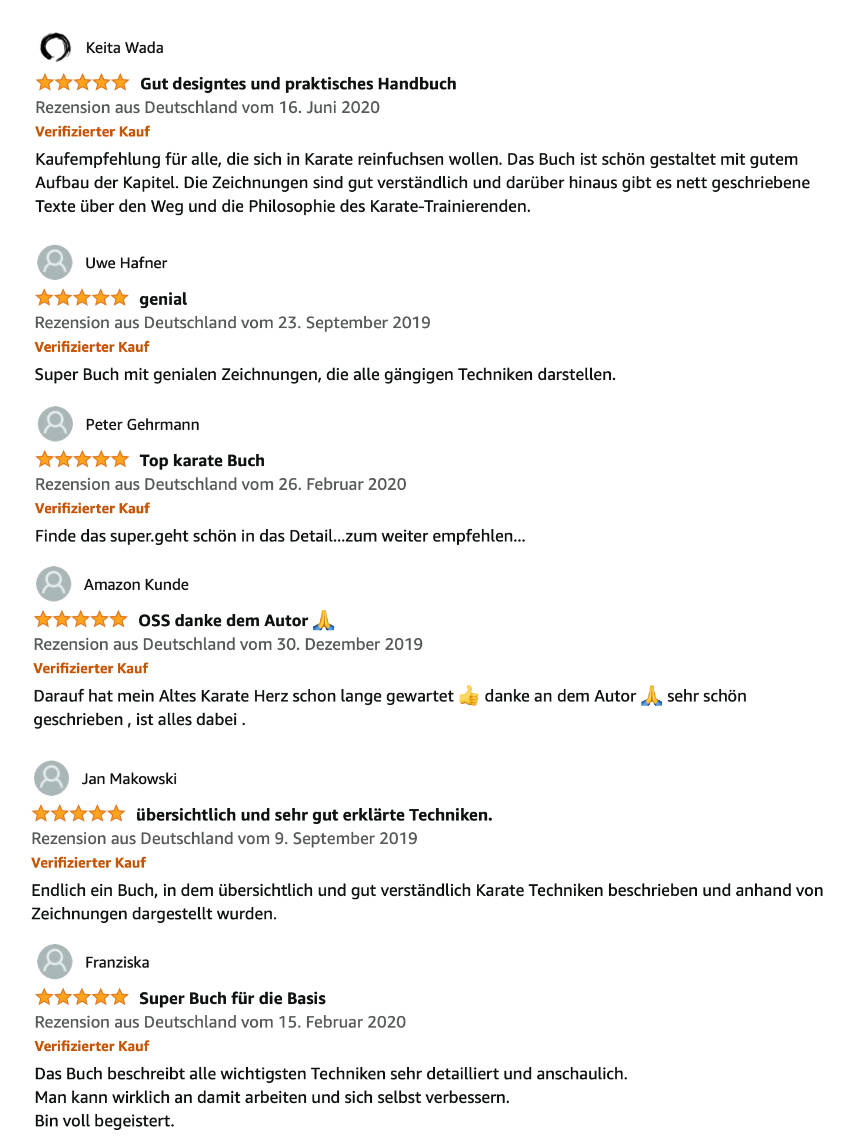 The goal of this book is to provide all seeking Karateka with a structured and systematic support, which enables a deeper development.
It is about getting to know the essentials of Karate and to deepen it as well as to give impulses for techniques and training contents. Furthermore, Karate does not end at the threshold of Dōjō: the teaching of Karate and its principles offer support for all kinds of everyday situations. This allows the Karateka to develop beyond the technique.
Book structure:
Karate in Dōjō

Karate in everyday life

The spiritual teaching

A guide is revealed to the reader, which makes him better understand and internalize the essence of karate.
Ultimately, this book should serve as a manual for people with demands and expectations of themselves. A manual for Karateka, which did not arrive yet, where they would like to be gladly. There, where Karate is the link between Dōjō and everyday life and where technique, everyday experience and feeling merge into one.
"The Karate essence", because ...
Karate is an extensive topic, the facets of which cannot be completely covered in a book. Furthermore, the practice in Dōjō is crucial to understand this fascinating martial art not only with the intellect but - above all - with the body. The task of this book is to present basic techniques and concepts with accuracy and clarity as a basis in Karate.
Part 1: Karate in Dōjō

In part 1 of the book, the detailed approach, which consciously focuses on the basics, allows the reader to internalize the technical content. When they are mastered, the understanding is created for the more complex techniques, which are consciously not explained here and which are only mentioned without description, both visually and textually.
Part 2: Karate in everyday life.

Part 2 deals with the transfer of this concept and the attitude gained in Dōjō to everyday life. This is about the basic views as well as interpretations and extensions that depend on the individual Karateka. These aspects are subject to the subjectivity of the reader.
Part 3: The spiritual teaching

Part 3 builds on this level. The mental attitude of a person who has decided to take up karate is shaped by this. Various perspectives and perceptions of the whole life are considered from the ground up. The reader gains new impulses on his individual path, which can enable him to change his perspective. Until the Karateka will finally, with the achievement of a certain maturity, go his self-chosen Karate way.
From the preface by Dr. med. Jörg-Peter Schröder:

"The very detailed description of the basic Karate techniques quickly makes it clear that this book has the potential to become the standard work for Karateka. Technically excellent, from the precision and execution brilliant and well researched. Fiore takes a very close look at the techniques and their precise execution. Each drawing is hand painted and therefore truly unique. They express the precision, but also power and dynamics and illustrate the techniques and movement sequences".
"Fiore is not only concerned with the sporting aspect of the martial art Karate, but also with the mental attitude in the martial art. Especially in an increasingly complex and stressful time, Karate training becomes a real source of energy through intensive activity".
"For me personally, this Karate book is more than just a technical standard work for Karateka. It is much more profound."
–––––––––––––––––––––––––––––––––
"This book contains over 45 years of karate knowledge, experience and practice and is therefore my most valuable work to date".
- Fiore Tartaglia
–––––––––––––––––––––––––––––––––
Author: Fiore Tartaglia
Publisher: Spectra
Scope: 304 pages
ISBN: 978-3-945583-28-9
Publication date: 
1st German edition: July 19, 2019 
English edition: December 11, 2020
Additions:
A total of 386 drawings. Clear presentation due to continuous colored design. 
–––––––––––––––––––––––––––––––––
If you like the Book please take a moment to rate 🌟🌟🌟🌟🌟
–––––––––––––––––––––––––––––––––
COPYRIGHT, DISCLAMER AND SUPPORT:
© Fiore Tartaglia | www.shotokan-kata.com | Spectra Verlag

All rights reserved. Unauthorized distribution or reproduction of the book is illegal and will be prosecuted. 

Not sure or any questions, Feedback or other concerns?

Write an email to info@shotokan-kata.com or Instragram: @fiore.tartaglia